---
News
---
Forthcoming Events
---
Recent Events
---
Annual Club Barbecue, 23 June 7.30pm
Make a date for The Annual Club BBQ and meet some prospective new club members. The Beginners' and Improvers' Course finishes on 16 June and all attendees have been invited to this BBQ to meet Club players and play some social tennis to encourage them to join the club. Please support this event and have a game with them before tucking in to hot dogs, wings, burgers, salad and wedges. Some wine, beer and soft drinks will also be provided. It is always an enjoyable event for a modest cost of £7 adults, £3 children. Bring the family.
Contact Bev at bev@abingdontennisclub.com, or call on 01235530904/07765932760. Vegetarians catered for if notified in advance.
Veteran's Tournament, Sunday 4th June
On Sunday 4th June eighteen of the less young club members (men over 45 and ladies over 40) turned out to play in the Veteran's Tournament. The weather was fine and an enjoyable afternoon's tennis was had by all.
It was a mixed doubles tournament played as a six round American tournament where partners changed each round. Unfortunately, there were nine ladies and seven men players, and Dawn Torgeresen had the disadvantage of playing as a man. Even so, she managed to win two of her rounds without dropping a game!
Ununsually, this year there were clear winners for both men and ladies, so no final playoff was required. The mens winnner was Jim Eastwood and the ladies winner was Lucy Krepa (pictured to the left).
Many thanks to Craig Amison-Smith for all his efforts in organising and making the tournmament run smmothly.
Captain's Cup
Annual General Meeting, 7.30pm, Tuesday 21st February 2017
The reports and minutes of this year's AGM may now be found in the members area under Files|Minutes/AGMs.
Christmas Social Tournament, 20 December 2016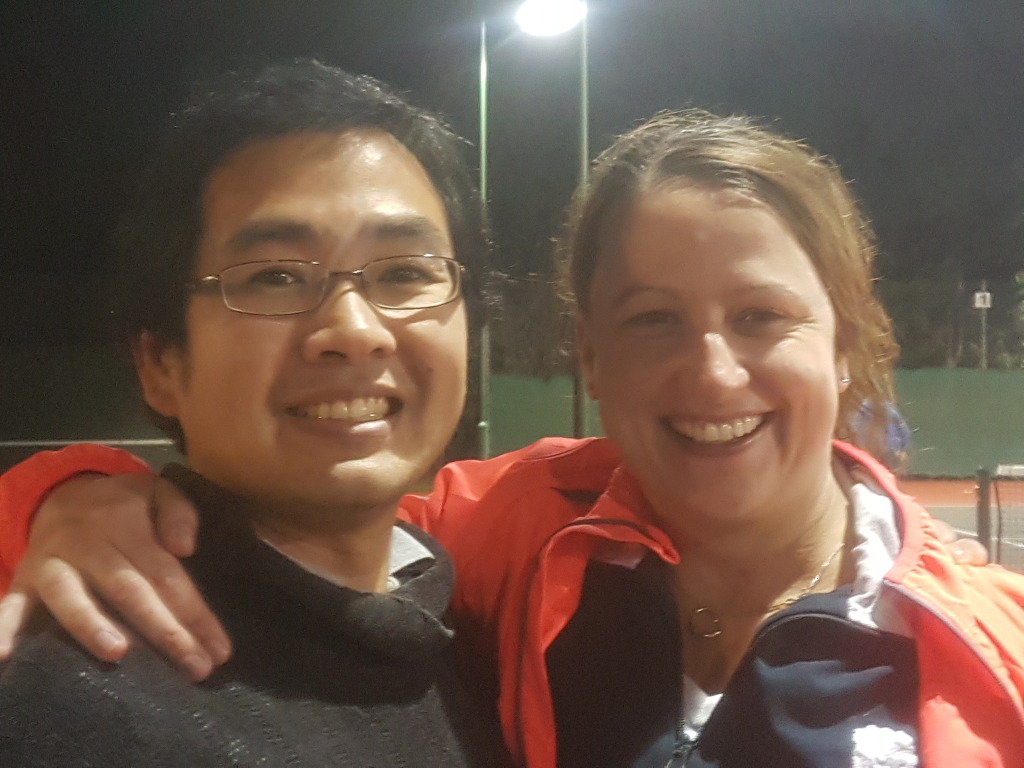 The Tennis at Christmas social event and competition took place on Tuesday 20th December. There was a good turnout, but there were only a small number in the traditional fancy dress. Richard Smart prepared mulled wine and a selection of nibbles to get everyone in a festive spirit before the competition began.
After a good evenings play organised by Craig Amison-Smith, Jules Hiddleston emerged as the ladies winner of the Nicolette Coleman Cup. Jirasak Raung-Oun won the mens competition for the Mike Barter Cup.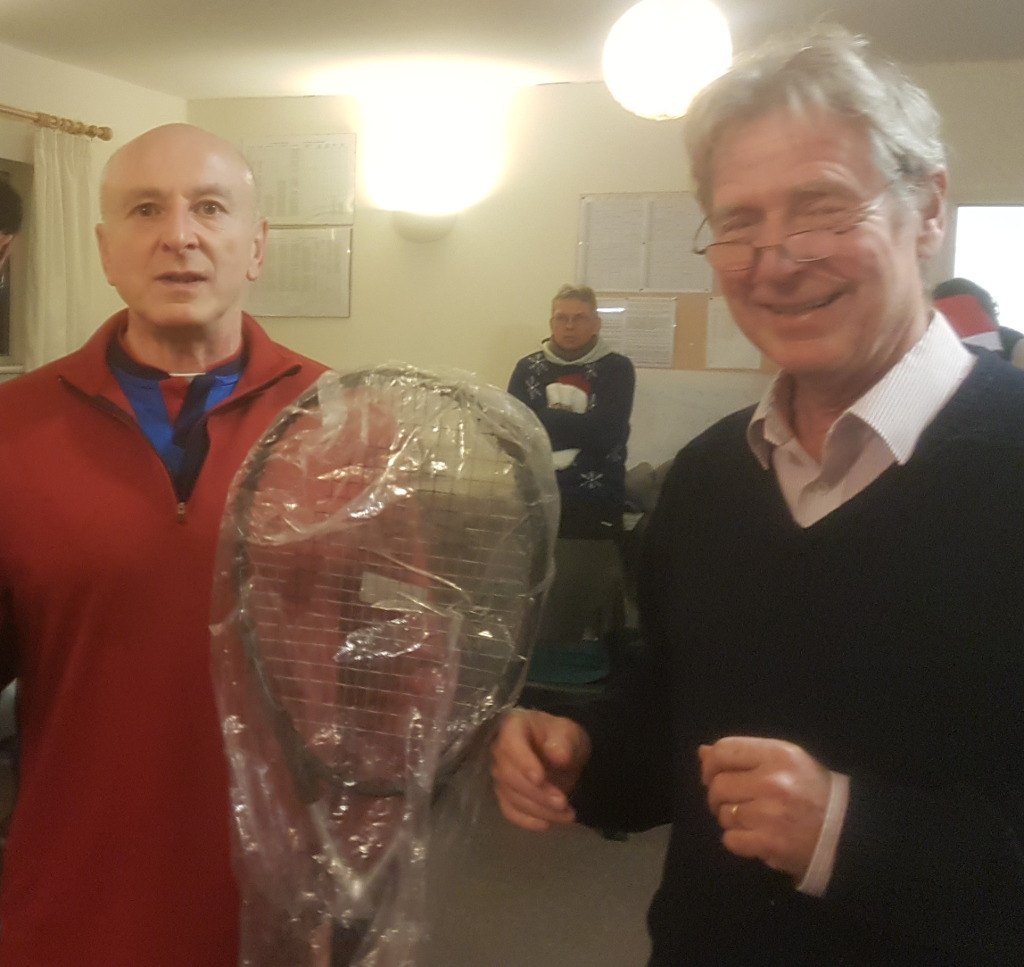 There was also a serious side to the evening. One of our long-term members, Terry Carter, has just been diagnosed with Myeloma and can no longer play. A raffle in aid of Myeloma UK was held for his new tennis racket and other prizes donated by members. £ 296 was raised for the charity through raffle ticket sales and donations. The racket was won by Michel Simoni.
Terry - Everyone at the club send you their best wishes.
President's Tournament, 20 November 2016
The President's Tournament was held on Sunday 20th November. The weather that morning was particularly wet, and as a result only 10 players turned out to brave the elements. As it turned out, the weather improved in the afternoon and we ended up having an enjoyable afternoon's tennis.
Four rounds of mixed doubles were played, with the scoring based on the total number of games each player won. Dawn Torgersen was as the clear ladies winner. For the men it was closer, with Mark Meadowcroft narrowly emerging as the mens winner.
James Eastwood
---
Saturday Junior Tennis
Craig Amison-Smith runs supervised junior tennis session, 10-12am every Saturday (see the coaching page for more information). Non-members pay a visitor's fee to play.
Beginners, Returnees and Improvers Coaching Course 2017
Bev Woodcock and Craig Amison-Smith will again be running a Beginners, Returnee and Improvers coaching course for adults of all ages wishing to take up or get back into tennis playing. It will start in spring, and the start date is yet to be finalised.Coaching will run from 7.30pm to 9pm and the course is open to both members and non-member. The cost is £5 for members and £8 for non-members. If you are interested then contact Bev as soon as possible for more details (Tel: 01235 530904 oe email: bev@abingdontennisclub.com).
Club Knockout Tournament 2017
The Club Knockout Tournament will start as soon as possible after membership renewal is completed in April, so don't be late in renewing your membership.
Coaching Group Sessions, Wednesday 4-7pm
The coaching runs every term-time Wednesday. There is coaching for players aged 5 to 10 from 4pm to 5pm, for junior players aged 11 to 16 between 5pm and 6pm and for the adult session between 6 and 7pm.
Please contact Craig at craig@abingdontennisclub.com to register your player, or ask any questions you may have.
Preston Bowl, Sunday 13th August 2017
The Preston Bowl Open Mixed Doubles competition will be held on the first Sunday of Open Week, see the Preston Bowl 2017 web page.
Junior Open, 14-18 August, 2017
Full details of the results of the 2016 tournaments may be found by going to the Junior Open 2016 pages.
The LTA Grade 4 Abingdon Junior Open 2017 will be held 14-18 August 2017, and has been assigned LTA code OXF17S0238. Further details may be found on the Junior Open 2017 web pages.
Family Doubles, 19th August 2017
The Quorn Family Doubles competition will be held on the Saturday of Open Week, see the Family Doubles 2017 web page.
Singles Box League
Please contact Craig at craig@abingdontennisclub.com to register your player, or ask any questions you may have.
Aegon Junior tennis
For details on the Aegon Junior tennis, see the Juniors web page.