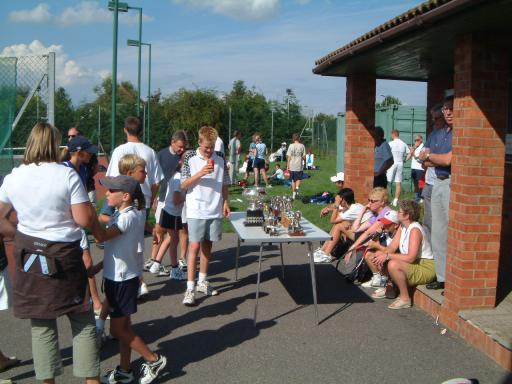 The 11th Abingdon Open Tournament held in August 2002 was a great success with 179 entries -- up 30% on the 2001 entries. The growing popularity of the competition is reflected both in the return of regular competitors and new entrants.
The Tournament now offers a complete range of events for the whole family from Under 8's to Veterans Over 45's plus the Preston Bowl mixed doubles and Family Doubles. It provides an excellent week of tennis for players of all ages in August each year.
A summary list of all the final results may be viewed using the button Finals. A list of the events for adult players, together with pictures of the finalists and the result of each final may be found by clicking on the Adults button. The corresponding list, pictures and results for juniors events is to be found by selecting the Juniors button. The standard of play across the ratings categories has been much stronger this year headed by the Mens Singles Champion, Tom Greenland, who currently has a rating of 1.4 (Aug 2002) .
The success of the Tournament relied on the efforts made by members of the club, and on the generous support from the Tournament Sponsors. The Sponsor for the 2002 Tournament may be viewed by selecting the Sponsors button. We are also grateful to the efforts of our Referees, Tom Kinloch and Kath Lovell of ABTO.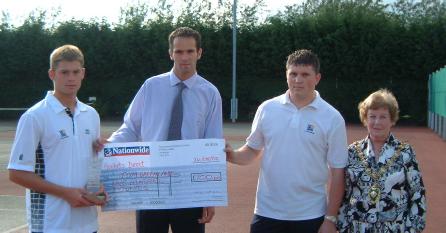 We were honoured this year by the presence of the Mayor of Abingdon, Councillor Audrey Tamplin, who added to the sense of occasion on our finals day which was attended by over 100 spectators. Competitors who performed particularly well were Myles Orton (Hazelmere) winning the Boys Under 8 and Under 9 events and Jonathan Maskens (North Oxford) who was runner-up to Tom Greenland (Cholsey) in the Open Mens singles, but retained the Mens Under 21 singles against William Auger (Guildford) and won the Under 18 Boys singles against Alex Robinson (Buckingham).