---
Club Tournament 2008
---

Entries to the club summer tournaments were again up on the previous year. We fluked another sunny Finals Day this year amongst the otherwise wet summer. Play started with a Mixed Doubles final that was impossible to call with Dawn Torgersen and Jason Oliver coming back from a set and 2-0 down, then 5-2 down in the third and saving three match points to eventually retain our title. Katheryn Schutterlin at least got her revenge on Dawn by next retaining her Ladies Doubles title with Helen Crofts (now Green).
Dave Soanes and Jeremy Wood reinforced the gap between them and the rest of the field in the Mens Singles by losing just six games between them in the five played matches it took them to reach the final (including incredibly dropping only one game between them in their four semi-final sets). Dave clinched his umpteenth consecutive title winning 6-3 6-4.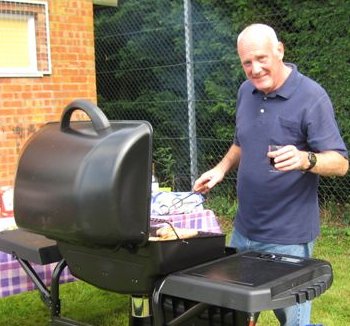 The Mens Under 21 final was a very well fought affair with Dave Spencer overcoming Will Cullen in three. The competition concluded with another final whose winner was difficult to predict with Dave Soanes and Ole Andersen beating Anders Markvardsen and Ben Soanes also in three sets. Having now won the event with at least four different partners perhaps it's almost becoming fair to say that the club's best mens pair is Dave plus anyone else!
The results of the final are given in the table below, and snapshots of the finalists are at the bottom of this page. Thanks to those who helped make the Finals Day a success.
| Event | Winner | Runner-up | Score |
| --- | --- | --- | --- |
| Ladies Singles | Kathryn Schutterlin | Toni Cox | 6-1, 6-1 |
| Mens Singles | David Soanes | Jeremy Wood | 6-3, 6-4 |
| Under 21 Mens Singles | Dave Spencer | Will Cullen | 6-2 5-7 6-2 |
| Under 21 Ladies Singles | Jess Cox | Hattie Cox | 6-1, 6-0 |
| Ladies Doubles | Kathryn Schutterlin & Helen Green | Pam Gordon & Dawn Torgersen | 6-0, 6-2 |
| Mens Doubles | David Soanes & Anders Markvardsen | Ole Andersen & Ben Soanes | 4-6, 6-1 6-4 |
| Mixed Doubles | Jason Oliver & Dawn Torgersen | Richard Smart & Kathryn Schutterlin | 5-7, 6-2 7-5 |
| Handicap Mixed Doubles | Linda Boston & Craig Amison-Smith | Isla Smith & Tim Ramirez | 6-3, 6-3 |
Ladies Singles Finalists
Kathryn Schutterlin (winner) and Toni Cox (runner-up)

Mens Singles Finalists
Jeremy Wood (runner-up) and David Soanes (winner)

Under 21 Mens Singles Finalists
Dave Spencer (winner) and Will Cullen (runner-up)

Under 21 Ladies Singles Finalists
Jess Cox(winner) and Hattie Cox (runner-up)

Ladies Doubles Finalists
Helen Green & Kathryn Schutterlin (winners) and Pam Gordon & Dawn Torgersen (runners-up)

Mens Doubles Finalists
Ben Soanes & Anders Markvardsen (runners-up) and Jason Oliver & David Soanes (winners)

Handicap Mixed Doubles Finalists
Linda Boston & Craig Amison-Smith (winners) and Isla Smith & Tim Ramirez (runners-up)

Mixed Doubles Finalists
Jason Oliver & Dawn Torgersen (winners) and Richard Smart & Kathryn Schutterlin (runners-up)